WHAT'S A MIMOSA BAR?
A mimosa bar is an easy and impressive way to add class and sophistication, while allowing everyone to sip on a refreshing fizzy cocktail, nosh on tasty brunch items, while enjoying my nieces birthday party at her new home.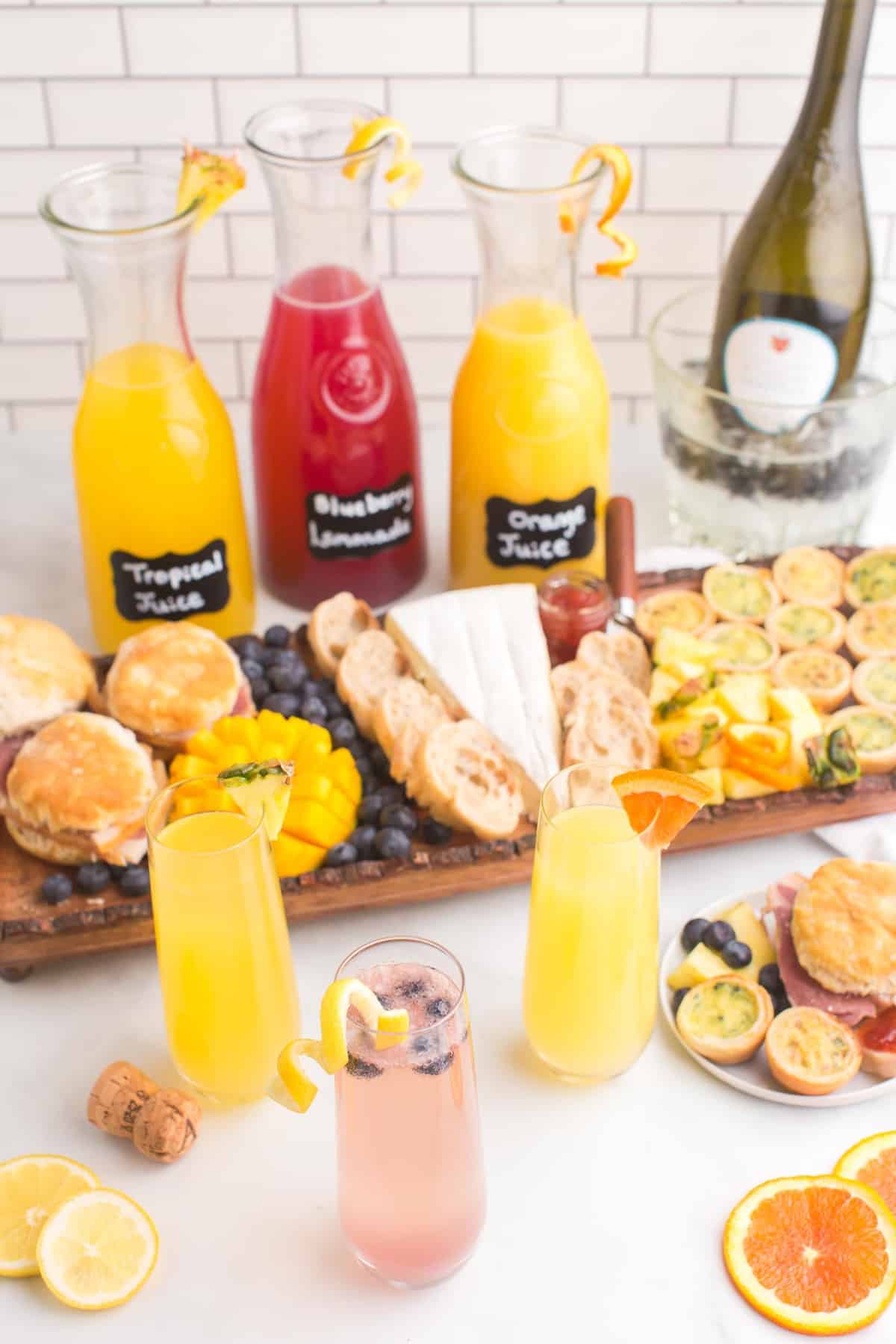 A mimosa is a popular cocktail made of sparkling white wine (traditionally champagne) and juice (traditionally orange). That's it! Sweet juice paired with tart, dry bubbles makes a mimosa a light and refreshing drink that is perfect for special occasions.
My sister's Mimosa recipe:
1 bottle of Sparkling wine
3 Cups of freshly squeezes orange juice
1/2 Cup Grand Marnier,
Fill eight champagne flutes half full with chilled sparkling wine. Top with orange juice. If you are using it, add 1 tablespoon of Grand Marnier to each glass
Mimosa Brunch items for the party:
My sister and i made for the brunch  – Country ham biscuits, creamy Brie, French Toast baguette , whipped cream, berries and strawberry jam, . For a fall themed party ( Me) , try adding pumpkin pie pop tarts.
one 13-oz french baguette (anywhere around that size)
3 large eggs
1/2 cup (120ml) half-and-half*
1/2 cup (120ml) milk (I use 1%)
1/2 teaspoon ground cinnamon
1–2 Tablespoons unsalted butter, to greased pan
Slice baguette into 1 – 1.5 inch thick slices. Set aside. In a medium bowl, whisk the eggs, half-and-half, milk, and cinnamon together until combined. The mixture will be thick and creamy. Pour in a pie dish or shallow baking pan. Soak the bread slices in the egg mixture for about 2 minutes on each side. Meanwhile, over medium-low heat, melt 1 Tablespoon of butter in a skillet pan. Place however many slices of bread fit into the pan and cook until golden brown on each side, about 3 minutes on each side. Melt more butter in skillet pan for the next batch, if needed. Serve immediately with your favorite toppings like maple syrup, confectioners' sugar, berries
Thanks for being with me today on National Mimosa day!